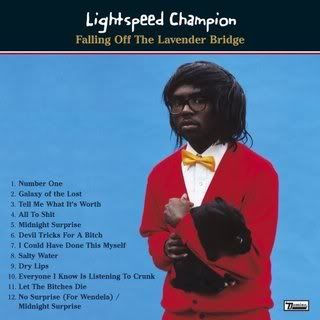 One of the UK's most promising acts of 2005, Test Icicles, never managed to cash in on the short lived hype which surrounded them. A fact that isn't all that surprising considering their one trick pony antics.
Now, in 2008 former member Devonte Hynes is giving it another go. Finally having the opportunity to make the kind of music he can be proud of with his new project, Lightspeed Champion.
This quirky indie folksy debut entitled,
Falling Off The Lavender Bridge
has fans and critics alike buzzing with the prospect of things to come.
The sometimes shocking bluntness of Hynes' lyrics are a refreshing change and add a level of honesty most musicians aren't willing to risk until much later in their careers.
The album includes several tongue in cheek numbers including a reflection on a less than perfect sexual encounter - 'I Could Have Done This Myself'. While other tracks cover much broader issues. Almost coming off as an attempt at being 'the voice of a generation' with his confronting social commentaries.
But even if we take away meaning and intent,
Falling Off The Lavender Bridge
is a overtly charming album. Musically the soft edges and flowing melodies leave me wanting more and I can imagine many others will feel the same.
For me the standout tracks would have to be current single, 'Galaxy Of The Lost, 'Tell Me What It's Worth', 'Dry Lips' and 'Everyone I Know is Listening To Crunk'.
This album has the potential for great success. It appeals to a wide audience. Whether you're looking for humour, bravado, depth or sincerity you'll find it here if you look hard enough. Any and all indie fans should get listening and decide for yourself. Lightspeed Champion has the potential for more. Only time will tell if Hynes' will manage to achieve the possible this time around.