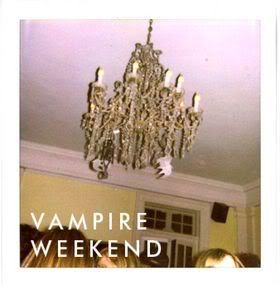 Every now and then a band comes along who grab your attention without even trying. They don't demand to be noticed like so many others. They're noticed because they are offering something real amidst the smoke and mirrors the music industry is unfortunately so often made up of.
New York based, Vampire Weekend are one such band. Their indie pop sensibilities coupled with their affinity for African style beats and charmingly simple song structures put them a cut above their peers in a way rarely seen and even more rarely appreciated.
This talented little four piece have recently released their debut self titled album and I have to say - I feel exceedingly sorry for any other bands who plan to release their debuts this year. Vampire Weekend is going to be a tough act to follow, no doubt about it.
The 11 track album clocks in at a short 35 odd minutes. The record is tight and well thought out with each consecutive idea carried out to its logical conclusion with a kind of certainty and precision only the young and unjaded possess.
Stand out tracks include the already classic 'Mansard Roof', along with 'A-Punk', 'Cape Cod Kwassa Kwassa', 'One (Blake's Got A New Face)' and 'Walcott'.
If you're a follower of 'indie music' then you've already heard of this band. The hypes far too substantial to miss. For once the praise is more then well deserved, it's necessary. Vampire Weekend are a legend in the making. This is one of the albums that will be remembered long after it's time. One of those "must haves" that come around far to infrequently. If you're still not convinced, give it a spin. It'll make a believer out of you long before the last note sounds. This much I'm sure of.