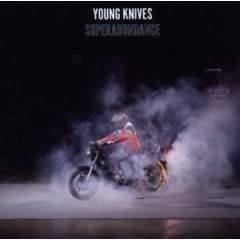 London based indie popsters, Young Knives have recently released their sophomore LP,
Superabundance
through Warner Records.
The results of which are everything you'd expect from an up and coming indie group on the scene today. Recorded in Scotland and produced by Tony Doogan,
Superabundance
is a fantastic follow-up by any standards.
The album is an eclectic mix of pulse racing dance floor fillers as well as more mellow reflective tracks. On first listen it's easy to get swept up in the novelty and newness of fresh Young Knives material but the more I play it the more I find myself falling love with the album as a whole. Complete and separate from their debut.
The stand out tracks include singles, 'Terra Firma', 'Up All Night' and the sweepingly melodic 'Turn Tail' as well as 'I Can Hardly See Them', 'Dyed In The Wool' and the deceivingly addictive 'Mummy Light The Fire'.
While I'm definitely a fan of
Superabundance
, it seems, on occasion, as if Young Knives are still struggling to find their proverbial feet, shifting back and forth between cutting social commentary and light-hearted quirk. The album is at times missing that ever important common thread which should run through from beginning to end making the album an entity unto itself.
Despite some unavoidable shortcomings, Young Knives have achieved a great deal in their time together. They have two fantastic full length albums as well as a handful of EP's and singles. And they've toured extensively including support slots alongside the likes of Hot Hot Heat, The Futureheads, Dirty Pretty Things and The Rakes.
If you're yet to discover Young Knives then
Superabundance
is as good a place as any to become acquainted. If nothing else it's an easily enjoyable album which holds the promise of great things to come from this likable little three piece.